Delivery Details & Return Policy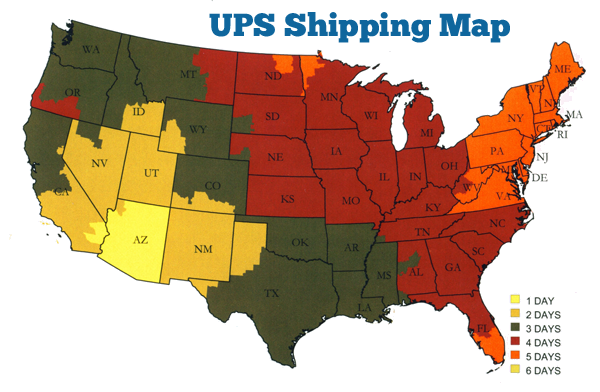 This is a map of the estimated UPS Shipping times for ThePerfectWater.com orders. This can be used as a template for how long it will take to ship your products. Perfect Water Technologies, Inc. requires 24-48 hours to process and ship your products, then UPS will deliver them according to the map below.
30 Day 100% Satisfaction Money Back Guarantee - General Conditions
For a period of 30 days from the date of original purchase, Perfect Water Technologies, Inc. will refund the purchase price of the specified product for any reason except damage to any part of the product because of misuse; misapplication; negligence; alteration; accident; installation or operation contrary to our instructions, incompatibility with accessories not recommended by Perfect Water Technologies, Inc. or authorized agents, or damage caused by freezing, flood, fire, terrorism, or Act of God. In all such cases, regular charges will apply.
Filter elements and membrane elements may only be returned if unopened with the packaging intact.
This warranty does not include service to diagnose a claimed malfunction in this unit. Liability is limited to repair or replacement of the product.
Warranty does not include costs related to shipping, freight, transportation or other costs.
This warranty is void if the claimer is not the original purchaser of the unit
It is also void if the unit is not operated under normal municipal water or well water conditions, with potable water meeting the specified standard operating conditions and with all recommended filter changes and maintenance performed at recommenced intervals.
We assume no warranty liability in connection with the product other than that specified herein. This warranty is in lieu of all other warranties, expressed or implied, including warranties of fitness for a particular purpose. We do not authorize any person or representative to assume for us any other obligations on the sale of our products.
This warranty becomes effective when the system is installed correctly and successfully. Behind this product are years of research, design, and production skill. With proper installation and annual maintenance, our products will provide you and your family with years of trouble-free service. For updates on home water purification products please visit us regularly. Thank you for your purchase.
Return Policy
Please call or email customer service for return authorization. Items returned without authorization will not be accepted. Items are returned at the shipper's expense.
Perfect Water Technologies is not liable for shipping, freight, or transportation costs, for items damaged during shipping or other incidental or related costs. COD shipments will not be accepted.
Filter elements and membrane elements may only be returned if unopened with the packaging intact.
THE STANDARD OPERATING CONDITIONS FOR EACH SPECIFIC PRODUCT MUST BE MET AS SPECIFIED ON THE PRODUCT DESCRIPTION PAGE AND/OR OWNERS MANUAL FOR WARRANTY TO BE VALID.