Home Master TMAFC Artesian Full Contact Reverse Osmosis System
Mineral Water on Tap®
Highly pure, slightly alkaline water at the fastest possible flow rate. Makes the best drinking water, coffee and tea you will ever have. Guaranteed or your money back.
A Better RO System | Home Master Artesian Full Contact's innovative design solves the most common problems associated with cannister and tankless RO systems.
Highly Pure Water | 7-stages of filtration, purification and enhancement remove up to 99% of Chlorine & Chloramines, chemicals, lead, heavy metals, fluoride, microplastics, TDS, and thousands more. BPA and Lead free.
NSF Certified Components | Meets or exceeds NSF standards for material safety and performance. NSF listed company.
Faster Flow Rate | Included Fast Flo RO! Kit has larger fittings and tubing provide twice the flow of traditional RO systems.
Modular Design | Easy to upgrade and service. Filter changes once per year or 2000 gallons with no wrenches required.
Catalytic Carbon | Home Master catalytic carbon outperforms ordinary activated carbon in removing stubborn chloramines, and other chemicals.
Dedicated Sediment Filter | 5-micron depth sediment filter prolongs the life of down-stream filters, ensuring highest possible water pressure and reduced water waste.
5-year Limited Warranty | 30-day 100% satisfaction money back guaranty. Made in the USA
---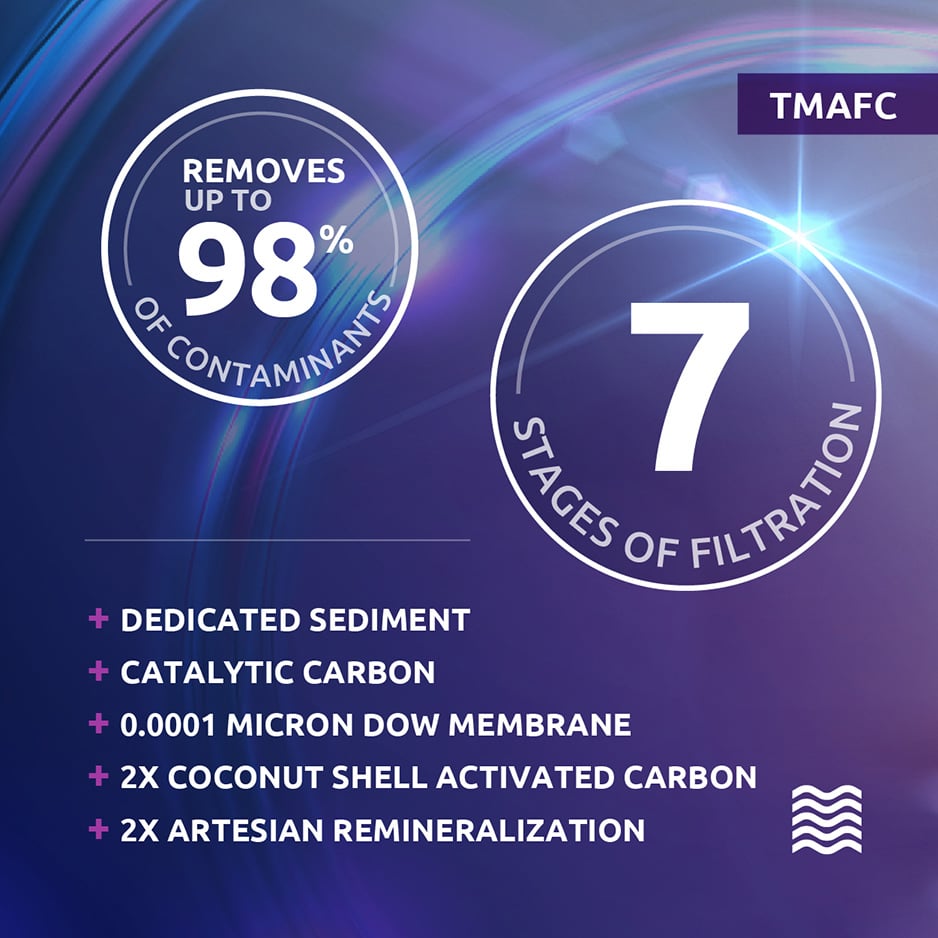 Solutions, Not Compromises | Home Master TMAFC Artesian Full Contact Undersink Reverse Osmosis Water Filtration System
The Home Master Artesian Full Contact Undersink Reverse Osmosis System delivers solutions, not problems. Even the most health conscious individuals will be impressed with its exceptional water purity and added beneficial minerals (30-60 mg/L combined) that produce clean, great-tasting Mineral Water on Tap. Home Master's innovative design eliminates the most common problems like canister filter housing leaks, slow flow rate, short filter life, service challenges, and slightly acidic water. It's all backed by a five-year limited waranty, and Made in the USA.
Perfect Water | Clean, refreshing water - FAST
Home Master Artesian Full Contact uses seven stages of filtration, purification, and enhancement to remove up to 99% of chlorine, chloramines, chemicals, heavy metals, lead, fluoride, dissolved solids, pharmaceuticals, microplastics, and thousands of other contaminants.
Additionally, all Home Master RO systems use powerful catalytic carbon filtration media in the carbon prefilter to treat the very persistent chemical disinfectant chloramine. Ordinary carbon filters are unable to effectively remove this stubborn contaminant that is now being deployed nationwide to replace chlorine. It takes the more advanced carbon media known as catalytic carbon.
Many tankless RO systems use imported 'loose' style membranes which can only achieve 90-94% reduction in total dissolved solids including heavy metals. Those membranes are intentionally loosely wound to allow for more flow, sacrificing purity to compensate for not having a storage tank. Home Master uses only the highest quality American-made Dow 0.0001 micron RO membranes which can achieve up to 98% reduction in total dissolved solids including heavy metals.
Most RO systems produce demineralized water that is highly pure but slightly acidic. When the acidic water sits in the storage tank, the acidic water attacks the rubber bladder and dissolves some of it. This is known as storage tank degradation and it affects the taste of the water.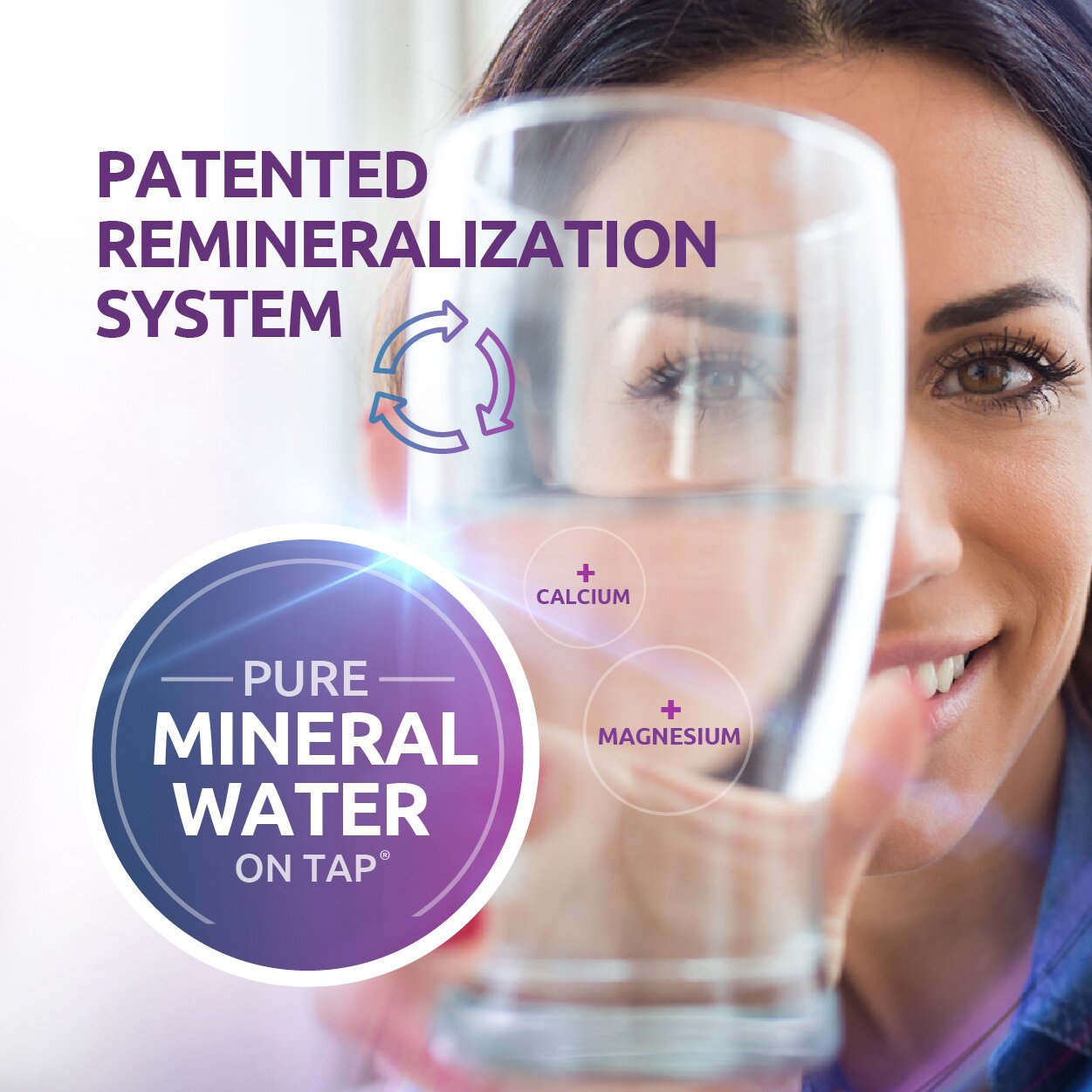 Home Master prevents this from occurring with its patented Full Contact Artesian remineralization system. This system balances the water's pH level at two different points of the purification process. The first point of remineralization occurs when the water travels to the storage tank; the second occurs when the water travels to the faucet. At both remineralization points, small amounts of calcium and magnesium minerals (30-60 mg/l combined) are added through a natural process. This helps prevent storage tank degradation and makes the water slightly alkaline, resulting in the best tasting water you will ever have, guaranteed or your money back.
---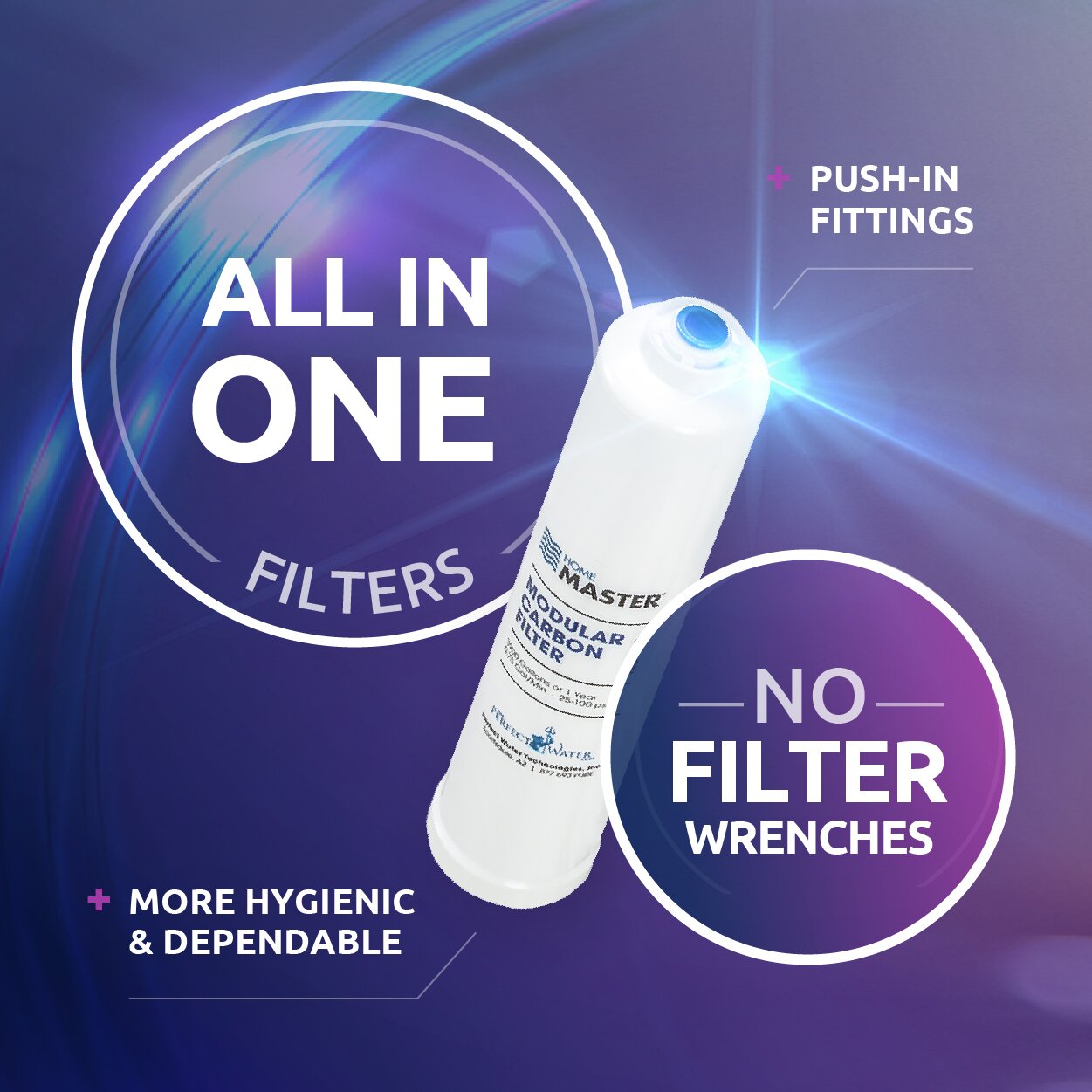 Saves Time & Frustration | Easy change filters
Filter changes on traditional RO systems can be a real pain. They often require heavy tools, and brute force to loosen stuck canisters sealed shut by accumulated hardness minerals and icky contaminants. Home Master makes annual filter changes easier than ever before. Its modular design provides full access and visibility, and push-in-fittings make filter changes quick and painless– no wrenches required.
Modular Filter Design
The most significant problem associated with traditional RO systems is the 'canister filter housing' design, where only the filters are changed, and not the filter housings. Sediment, microorganisms and biofilm can accumulate in the canisters and, over time, the canisters will weaken, begin to leak and ultimately fail. This can potentially lead to serious water damage and costly home repairs.
Some tankless RO systems employ a solid manifold design that is impractical to upgrade or service. Home Master's innovative system uses a modular design where the components are exposed and the 'all-in-one' filters are incorporated into their housings.
This makes annual filter changes fast and efficient, reduces microorganism and biofilm build-up and helps to eliminate leaks. Home Master filters last longer than traditional RO systems' filters — only requiring a filter change once a year or every 2,000 gallons. When it comes to installation, service and system performance – Home Master's modular design is beautiful.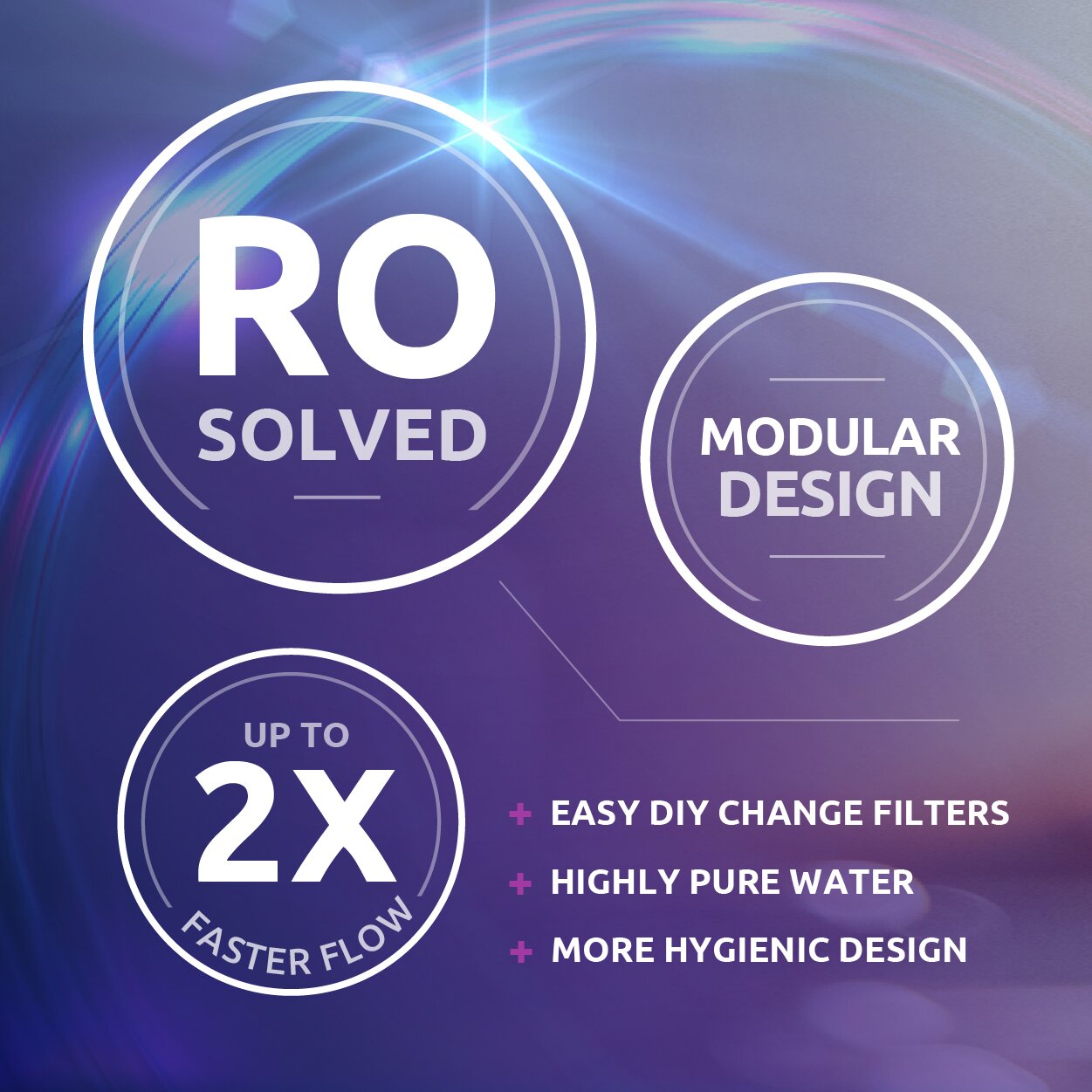 ---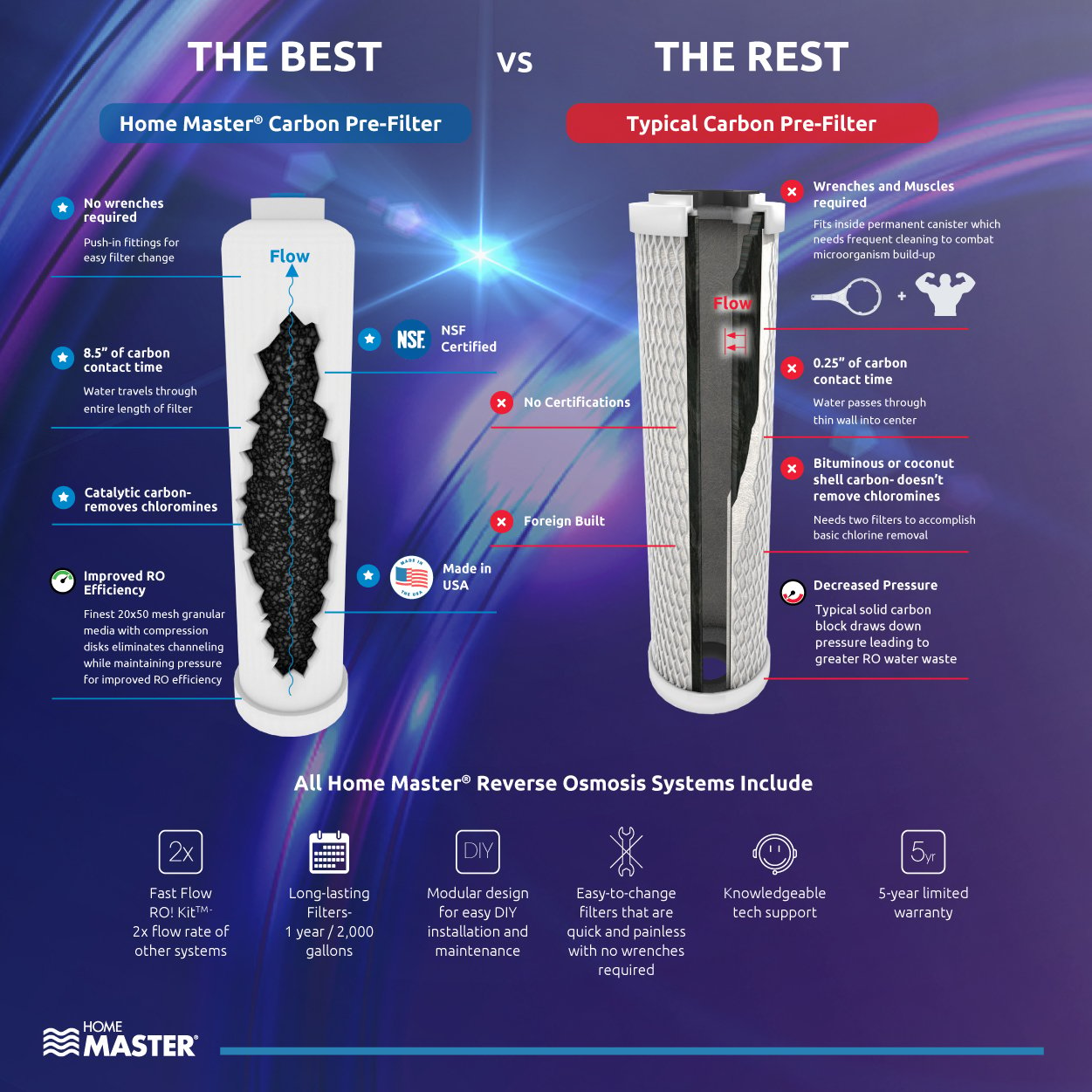 Save Time, Money & Water | Improved water efficiency
Home Master Systems use granular carbon in the pre-filter rather than of carbon block to ensure the water pressure stays as strong as possible. Stronger water pressure to the membrane produces more water with less waste. Compare Home Master's 8.5 inches of carbon contact time with the competition's thin wall carbon block. More carbon contact produces cleaner water.
Some tankless RO systems fail to use a dedicated sediment pre-filter filter, forcing the entire sediment load into their carbon block which can slow membrane production, increase waste, maintenance requirements and costs. All Home Master RO systems use a dedicated 5-micron depth sediment pre-filter to prolong overall filter life, and ensure the highest possible water efficiency
Home Master Does It Better | Better water efficiency, faster flow rate, reduced TDS creep
The Home Master Fast Flow RO! kit and optional non-electric permeate pump upgrade solve several problems commonly found in other RO systems: TDS Creep, slow flow rate, and poor water waste. Home Master Fast Flow RO! kit nearly doubles the flow rate by incorporating larger fittings, tubing and other high flow components.
Some canister and tankless RO's fail to use a dedicated sediment prefilter or use carbon block, both of which can slow membrane production & increase waste, or increase maintenance requirements. All Home Master Reverse Osmosis systems use dedicated 5-micron sediment prefilter, ensuring the best possible performance.
To further improve system efficiency, Home Master offers a permeate pump upgrade on all its RO systems. This device reduced waste water by up to 80% & increases production by up to 50%, with about a 1:1 waste ratio. This allows the tank to fill fuller, and provides slightly cleaner water by virtually eliminating TDS Creep - an issue with tankless systems. TDS standards for Total Dissolved Solids which include the hardness minerals, salts, and heavy metals.
Home Master Artesian Full Contact systems ran with our permeate pump upgrade solve TDS Creep by boosting pressure during the fill cycle and regulating water flow. Furthermore, because the tank stores purified water on tap, wasteful flushing is not necessary between common periods of inactivity.
Add the permeate pump upgrade to your cart today for a near 1:1 waste water to purified water ratio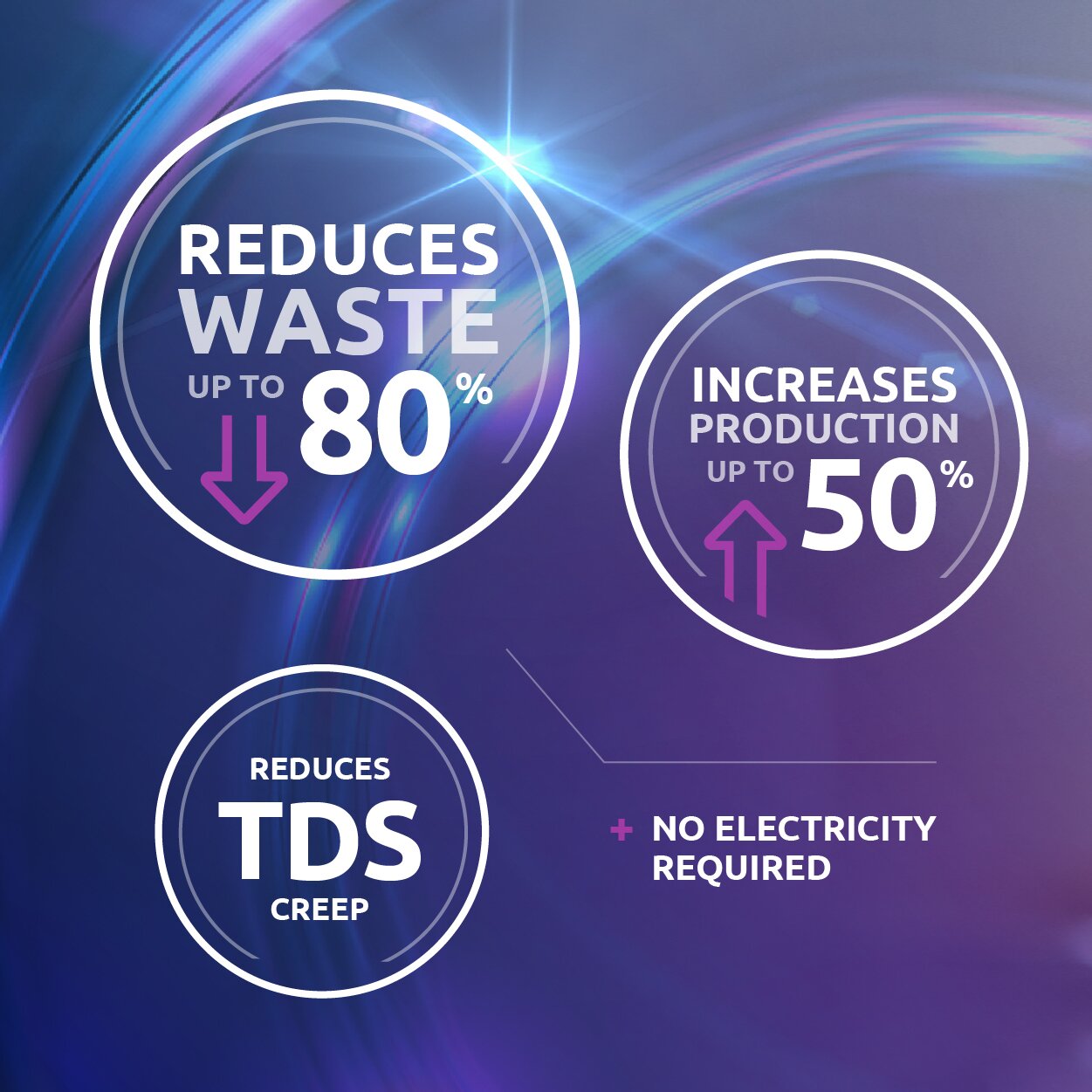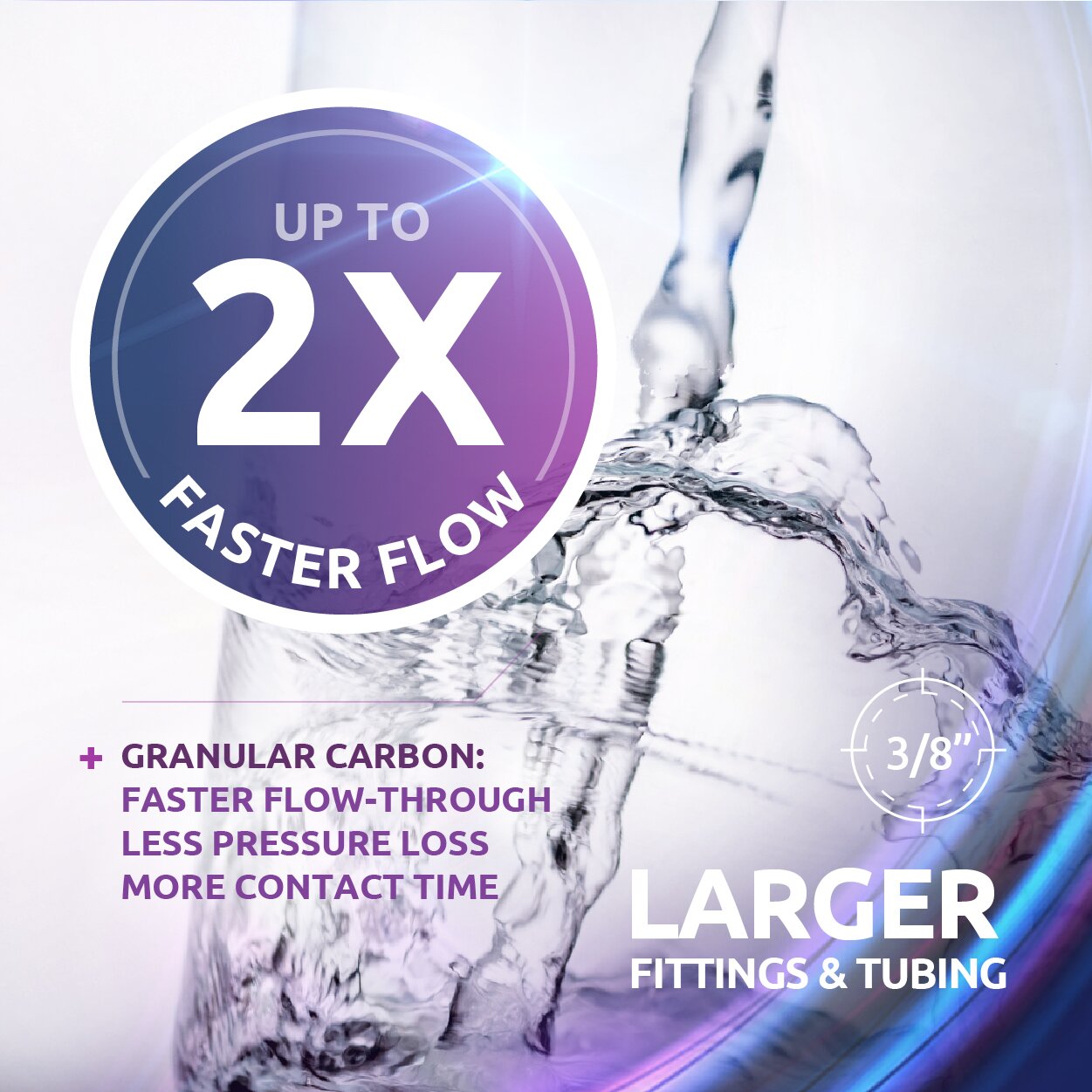 Includes all you need for DIY installation
The Perfect Choice
With so many different RO systems, selecting the perfect one can be difficult. Choose the system that produces consistently pure, great-tasting water – has a reliable and easy to use design, and provides a faster flow rate. Order the Home Master TMAFC Undersink Reverse Osmosis system that brings solutions – not problems.
5-year limited warranty | BPA Free | Lead Free | Made in the USA
---
In The Box:
Assembled purification unit which includes RO membrane and filters
3.2-gallon storage tank
3/8" feed-water adapter with shut off valve
Chrome RO faucet (lead-free)
RO adapter
Drain saddle
DIY instructions
General System Specifications:
Feed water: PSI 40 - 95 PSI (35PSI with permeate pump)
Max Sediment: 5 NTU
Feed water Temperature: 40˚ - 100˚ (F)
Max. Total Dissolved Solids (TDS): 2000 ppm
Max. Hardness: 10 gpg
Max. Iron 0.2ppm
pH limits: 4 - 10